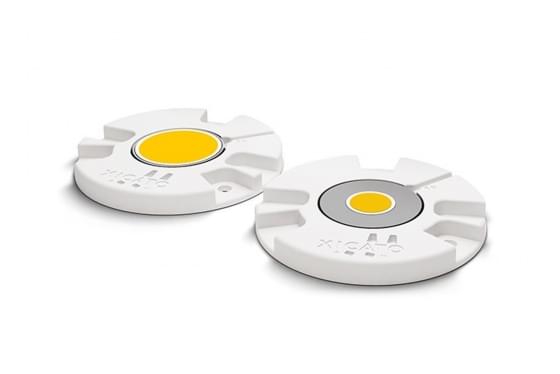 Downloads : technical modifications reserved
Xicato Standard Series products are designed to provide excellent, natural color rendition with high efficiency.
XTM Standard Series comes in 2700K, 3000K, 3500K and 4000K CCT, and in flux packages from 700 to 5000 lumens, delivering typical CRI (Ra) of 83, and consistently high R values across all 15 CIE CRI samples.
The Xicato Thin Module (XTM) consists of a Xicato Core Array (XCA), pressure fit into a compact yet robust holder designed to allow attachment of a large ecosystem of lenses and heatsinks to facilitate design and construction of a wide variety of downlight and spot fixtures. The XTM includes:
LED emitting core
Zhaga-compatible holder
Fixed wires
The integration of core and holder, with full UL and CE approval, provides the assurance of quality, and simplifies the certification of customer luminaires.
Available in 9mm
700lm: 2700K, 3000K, 3500K, 4000K
1300lm: 2700K, 3000K, 3500K, 4000K
2000lm: 2700K, 3000K, 3500K, 40000K

Available in 19mm
1300lm: 2700K, 3000K, 3500K, 4000K
2000lm: 2700K, 3000K, 3500K, 40000K
3000lm: 2700K,3000K, 3500K, 40000K
4000lm: 2700K,3000K, 3500K, 40000K
5000lm: 2700K,3000K, 3500K, 40000K
See specification for more information