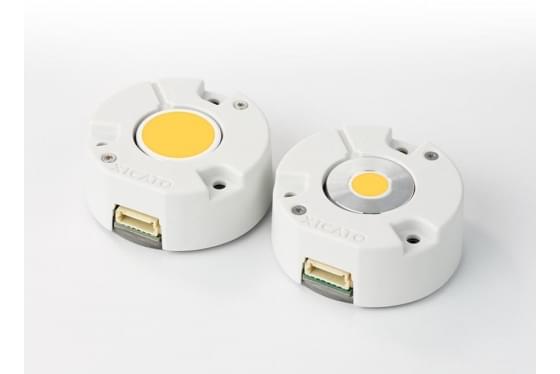 Downloads : technical modifications reserved
Xicato Artist Series products are designed to provide the most accurate, natural color rendition possible, over the entire visual spectrum.
XIM Artist Series comes in 2700K, 3000K, 3500K and 4000K CCT, and in flux packages from 700 to 2000 lumens, delivering typical CRI (Ra) of 97, typical R9 of 95, and extremely high R values across all 15 CIE CRI samples. DALI and 1-10 versions. Superior deep dimming, down to 0.1% in DALI and 1% in 1-10V, and smooth transition from/to dark. Reduced energy consumption and cost. Enables smaller and more elegant fixture designs without bulky LED drivers.
These values outperform not only other LED solutions, but also traditional metal halide or fluorescent lamps. The quality of the Xicato Artist Series makes it the preferred choice of many of the world's top museums, retailers, luxury hotels and residences.
The Xicato Intelligent Module (XIM) is a compact, integrated LED lighting module designed to fit a wide variety of downlight and spot fixtures, and to simplify the design and assembly of controllable LED luminaires. The XIM includes:
LED emitting core
Drive electronics – constant voltage to constant current (dimmable)
Microprocessor with firmware and static random access memory (SRAM)
Internal sensors that detect intensity, LED and PCB temperature, power, and other operating parameters
The extremely high quality, integrated XIM driver dims more smoothly and deeply than high-end standalone LED drivers. Combined with Xicato's industry leading color quality, consistency and application-optimized light spectra, XIM provides simply the most beautiful lit effect.
Available in 9mm
700lm: 2700K, 3000K, 4000K
1300lm: 2700K, 3000K, 4000K
Available in 19mm
1300lm: 2700K, 3000K, 3500K, 4000K
2000lm: 2200K, 2700K, 3000K, 3500K
3000lm: 2700K, 3000K, 3500K, 4000K
See specification for more information