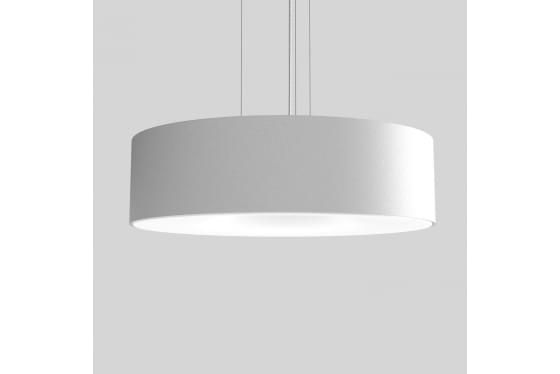 Downloads : technical modifications reserved
Beta-Calco Warp suspended
Our revolutionary triple circuit luminaire delivers high efficiency diffused, spot and indirect light, allowing you to transition from general ambient to mood lighting. Available in two sizes 18" & 24", the Warp family offers two styles of pendant plus a ceiling mounted version. The color temperature of each light source can be individually selected to deliver an effect best suited to the application. New to the Warp are a wide array of contemporary decorative colors to accent your architectural scene. 


Body: Aluminum and steel.
Canopy finish: Powder coated.
Suspension: Steel cables.
Power cable: Silver braided.
Diffuser: Acrylic.
Drivers: HPF electronic drivers for 120-277V (EU-240V)
Integral emergency system: Emergency option provides a 1.5 hour (3 hours for EU) emergency lighting facility. The self contained system includes the inverter module, NiCad batteries, LED charge indicator and test switch (NA only). Integral emergency EU luminaires have a 270mm/10.5" DIA x 48mm/2" height canopy with LED charge indicator. Not available with a 347V supply
See specification for more information.