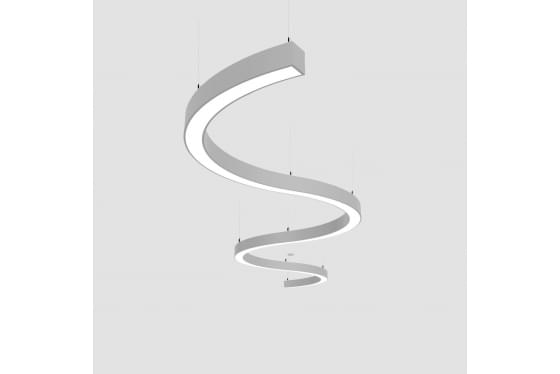 Downloads : technical modifications reserved
Beta-Calco Squiggle RGBW
Body and trim: Steel and aluminum.
Finish: Powder coated for standard finishes (black, metallic silver & white).  For wood grain finishes, the canopy will be white.
Suspension: Steel cables. Recommended minimum mounting heights from ceiling: 305mm/12" for White LEDs and 610mm/24" for Colored LEDs (Only for Direct/Indirect version). 
Power cable: Silver braided.
Diffusers: Opal polycarbonate direct/Clear polycarbonate indirect.
Drivers: For white LED, integral, HPF electronic drivers for 120-277V (EU-240V).
Drivers: For RGBW, integral HPF electronic drivers/DMX interfaces for 120-277V (EU-240V). Luminaires require a DMX controller by others.
Integral Emergency system: Emergency option provides a 1.5 hour (3 hours for EU) emergency lighting facility. The self contained system includes the inverter module, NiCad batteries, LED charge indicator and test switch (NA only). Not available with a 347V supply.
L70 @25oC: > 50,000 hrs.
See specification for more information.