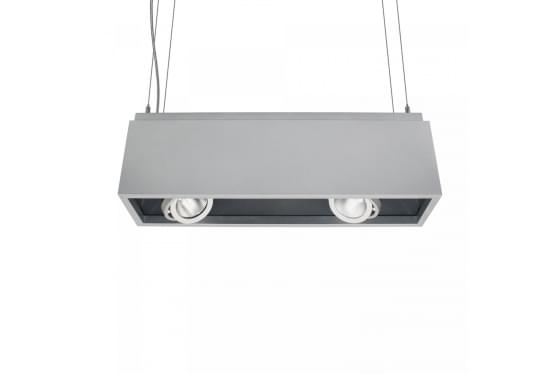 Downloads : technical modifications reserved
The Lux Company Rail-Lite II Susp Modern
Providing the ultimate solution in adjustability, efficacy, glare control and aesthetics for retail environments.
Intelligently designed for fast manufacturing.
Unique sliding system allows LEDs to be positioned closer to objects, maximizing lumens on the target merchandise.
An innovative gimbal mechanism allows users to effortlessly angle heads by hand from 0° to 25° perpendicular to the length, and to rotate up to 45° along the fixture length, all with no locking or unlocking and without tools.
Choices of beam angles from 21° to 64°, Colour Temperatures and CRI's.
Delivers up to 112 LPW and 3133 lumens per head.
Multiple dimming options, trim and gimbal finishes
Housing: Steel and aluminum.
Finish: Powder coated.
Suspension: Stainless steel cables.
Power cable: Silver braided.
Sliding: Individual heads can slide a maximum of 305mm/12" left or right of its centre point.
LED heat sink: Extruded aluminum.
Drivers: Constant Current driver for 120-277V (EU-240V).
L70 @25oC (77oF): > 60,000 hrs.
See specification for more information.