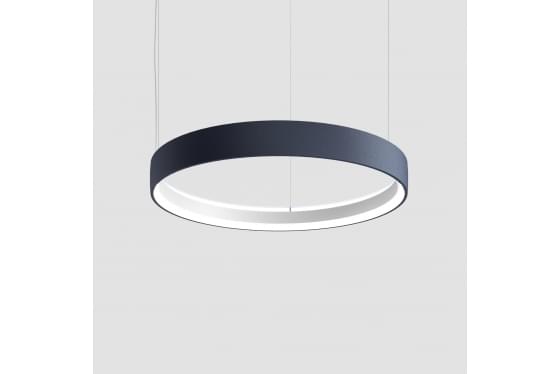 Downloads : technical modifications reserved
Betacalco Cerchio II
Cerchio II™ is a stunning pendant with a floating-effect inner ring. Cerchio II can be used in a multitude of architectural environments, such as atriums, lobbies, stores, offices, schools and places of worship. Available in six sizes from 2ft to 7ft, three different colour temperatures and customizable finish combinations for both inner and outer rings.
Body: Aluminum.
Finish: Powder coated.
Suspension: Stainless steel cables.
Power cable: Silver braided.
Drivers: HPF electronic drivers for 120-277V (EU-240V).
Remote mounting of drivers: Wire Size 18 AWG - Max distance (from canopy to drivers) 9.5', Wire size 16 AWG - Max distance 19.5', Wire size 14 AWG - Max distance 29.5'. Drivers must be accesible after installation.
Remote emergency: Emergency option provides a 1.5 hour (3 hours for EU) emergency lighting facility. The remote system includes the inverter module, NiCad batteries and a remote wall/ceiling LED charge indicator and test switch (NA only) Maximum distance between wall/ceiling plate and luminaire is 4.5m/15'. Test switch fits a single gang box (not supplied).
L70 @25oC: >50,000 hrs.
Mechanical: Luminaires mount directly over J box
See specification for more information.