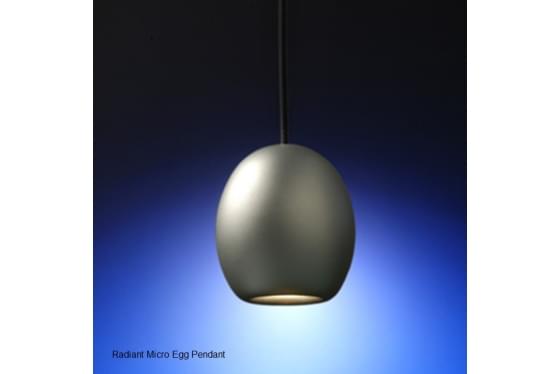 Downloads : technical modifications reserved
The Radiant Micro Pendant range IP20 incorporates the same optics and LV DC to DC dimmable drivers as the Micro Track spotlight range so they can be used together in the same projects.

Designed to be used in a wide variety of hospitality and residential applications where the quality and control of light is of high importance. Dim to warm and very low colour temperature LED options are available.

The light output from the LED array used for Radiant LED pendants contains very little heat or UV. The system is therefore ideal for the illumination of sensitive materials.
Photo 1: The Micro Egg Pendant is designed for use in retail, hospitality and residential projects. It is a technical lighting product in a decorative housing. Despite its tiny size it can produce up to 200 Lumens.
Photo 2: Micro Reflector Pendant
Photo 3: Nano Ribbed Pendant
Photo 4: Micro Ribbed Pendant
See specification for more information