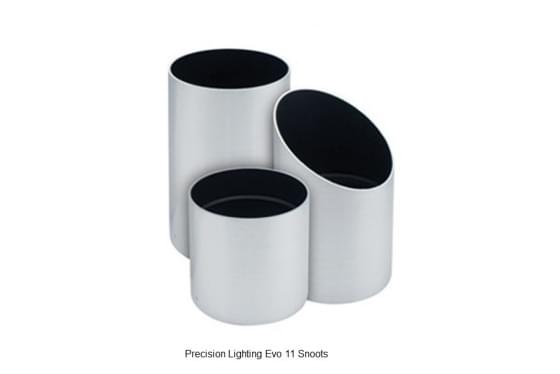 Downloads : technical modifications reserved
Precision Lighting Evo Snoots
Precision Lighitng Evo 11 and Evo 16 Snoots:
Evo snoots provide glare control and eliminate light spill.
There are three bayonet snoot variations: short, long and glare guard, all compatible with our Evo range.
Available in MR11, these snoots come in brushed aluminum, rubbed bronze, black and white finishes as standard, with custom finishes available on request.


Evo 11 Snoots:
| | |
| --- | --- |
| Category: | IP Rate |
| Material: | Machined Aluminium | Machined Brass |
| Finish: | Brushed Aluminium | Black | White | Rubbed Bronze |
| Connection: | Bayonet |
| Weight: | 20-90g |
Evo 16 Snoots:
| | |
| --- | --- |
| Category: | IP Rate |
| Material: | Machined Aluminium | Machined Brass |
| Finish: | Brushed Aluminium | Black | White | Rubbed Bronze |
| Connection: | Bayonet |
| Weight: | 60-270g |



See specifications for more information or Click here for Evo snoots 11 or here for Evo snoots 16