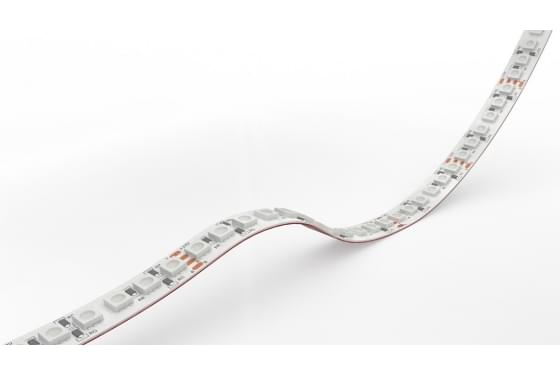 Downloads : technical modifications reserved
LED Flex Ultra Bright RGB 120 SL
The Ultra Bright RGB and RGBW offers an extensive colour palette and perfect colour mixing. This range delivers outstanding output and is the perfect choice for bringing colour to your project. The Ultra Bright SMD incorporates a separate red, green and blue diode which are mixed to create your desired colours.The Solo Chip RBGW has an additional white diode to deliver a true white colour temperature in addition to the colour mixing.
Cutting LED strips is very simple thanks to the cut lines along the strips. At each cut point there is a black line with copper solder pads that sit on each side. The copper solder pads make it so each strip piece is addressable even after being cut. This makes it possible to connect LED strips together or connect the strip in a different area of your home.
The LED strips have a 3M adhesive backing for simple mounting options. The low profile, flexible strip has a peel-off backing which exposes the 3M adhesive, making for a simple peel-and-stick install.
Dimension L1000/W8mm
LED pitch 8.33mm
Beam angle 120°
Colours RGB
Control 0-10V/1-10V/DMX/DALI
Power connection and cut point every 50mm
Stated output 582.93lm per metre
Luminaire efficacy (lm/W) 39.36
See specification for more information