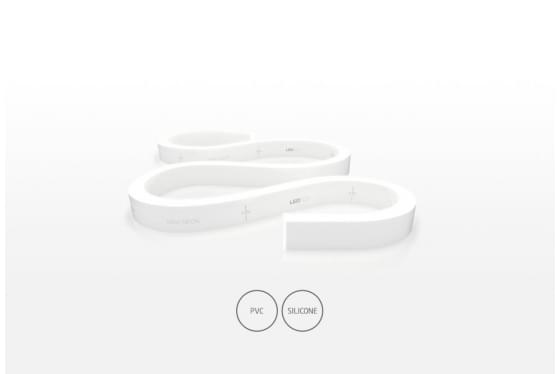 Downloads : technical modifications reserved
LED Flex Maxi Neon
LED Flex Maxi Neon is a comprehensive product offering a range of colour temperatures as well as RGB, RGBW, Dual Colour and Pixel addressable versions. Maxi Neon is available as a side view bending direction product and is used in the construction of a variety of outdoor projects. Maxi Neon Flex is also IK08 rated and can be used in floor applications.

Maxi Neon' design is both weather resistant and robust. The PVC construction is UV and salt water resistant for outdoor environments, the Maxi Neon Flex also meets fire safety standards.
Ends can be finished with an injection-moulded connector, creating an IP68 rated seal with a rear, side or top-end exit wire for seamless installations. Alternatively, clasp end caps can be fitted on site to meet the IP68 protection rating. The product range features easy installation and assembly with DIY accessories for joining and terminating.
Power Consumption: 10.9W/M - 11.18W/M | 0.45A/M - 0.46A/M
Product options: Power Supplies, Cables, Profiles, Connectors
Connection: Hardwire tails or male/female connectors
Terminination options: Waterproof Injection Moulded
Mounting: Self-locking aluminium profile
Control: 0-10V/1-10V/DMX/DALI
All LED Flex luminaires can also be mounted in an aluminium profile, so that it remains stable and straight.
See specification for more information