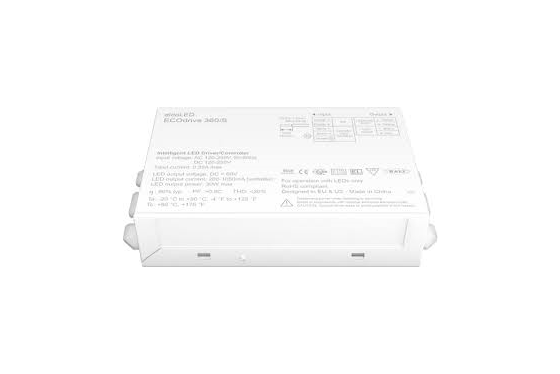 Downloads : technical modifications reserved
ECOdrive 360/S is DALI-2 certified. LEDcode2. Side-feed connectors. 130x72x28mm (photo 1)
ECOdrive 361/S is 0-10V compatible. LEDcode technology. You can order the ECOdrive 361/S with an ENERGY STAR and CA Title 24-compliant start up time. Side-feed connectors. 130x72x28mm (photo 2)
ECOdrive 360/B is DALI-2 certified. LEDcode2. Bottom-feed connectors. 130x72x34.4mm (photo 3)
ECOdrive 361/B is 0-10V compatible. LEDcode technology. You can order with an ENERGY STAR and CA Title 24-compliant start up time. Bottom-feed connectors. 130x72x34.4mm (photo 4)
Programmable digital ECOdrive LED driver providing standard LED fixtures with the smoothest flicker-free dimming to 1% light output, delivering value to any application.
LEDcode2: connects to integrated digital accessories, supports location-based IoT applications and enables wired and wireless lighting control through LEDcode peripheral devices.
LEDcode technology: configurable design to work with most constant current LED modules and arrays, while providing a connection point to integrated peripheral controls.
NTC interface for robust thermal management.

Benefits
Increase performance and capability of any LED fixture.
Reduce inventory and decrease lead times with configurable drivers.
Short lead times, designed to meet the most aggressive timelines.
Trusted brand with proven track record of performance and reliability.
See specification for more information