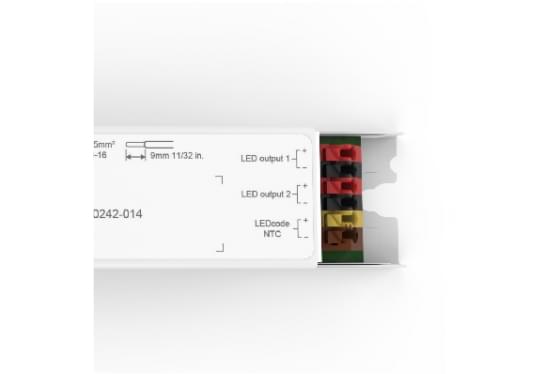 Downloads : technical modifications reserved
DUALdrive 360/U is DALI-2 certified. Two-channel dimming to zero. Long form factor. Two LED outputs. Independent LED driver.
Being a LightShape LED driver, DUALdrive 360/U allows you to compose the exact shade of white at the right intensity level to complement materials in retail, support productivity in the office, or create the perfect atmosphere in a hospitality environment.
Features
LightShape: intuitive colour temperature and intensity control
Hybrid HydraDrive: provides the smoothest flicker-free high-performance dimming to zero for every fixture
LEDcode technology: configurable design to work with most constant current LED modules and arrays, while providing a connection point to integrated peripheral controls
NTC interface for robust thermal management
Benefits
Industry-best dimming performance for your fixture/application
Wide application area thanks to fully configurable dimming curve
Perfect for tunable white applications
See specification for more information