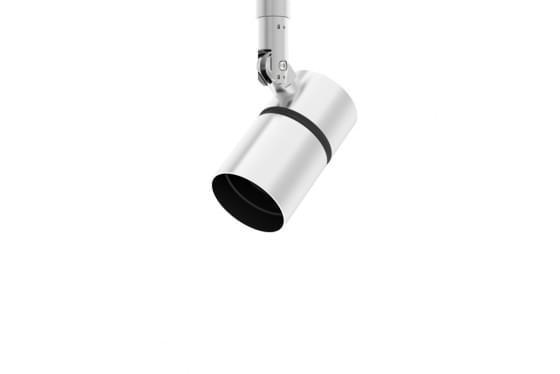 Downloads : technical modifications reserved
Precision Lighting EVO - Single Source LED T11 Short Snoot
Evo T11 Short Snoot is a single source side-mount LED spotlight that comes as standard in white, black and brushed aluminium finishes. It has five site changeable optics for flexible distribution. The ultra narrow spot beam in our 4.9W 405lm module has a peak intensity of 9532cd. The Evo has a 360 degree bearing aided rotation and 180 degree constant torque tilt mechanism, both lockable. The Jack Plug system enables the luminaire to be easily disconnected and reconnected to all of Precision Lighting's systems. The onboard 24V driver ensures overcurrent protection and is not polarity sensitive. An external AC to 24V DC power supply is required, please refer to our compatibility list.
Please enquire as to the availability of alternative colour temperatures or finishes.
Technical Specification
· Category: IP20
· Material: Machined AL 6063-T6
· Finish: Brushed Aluminium | Black | White
· System: Eutrac | Monopoints | LV Tracks
· Lockable: Pan & Tilt
· Accessories: Snoots | Louvres | Lenses
· System Power: 4.9W
· Gear/PSU/Driver: External 24V CV | 1-10V
· Weight: 169g
· Listing Conformity: ETL USA & Canada, CE UK & Europe
Optical
· Module Output: 405lm
· Absolute Output: 397lm
· Colour Temperature: 3000K 2700K
· CRI: 92
· Optics FWHM: 9 | 11 | 15 | 25 | 45
See specifications for more information, or get in contact with The Lux Company.