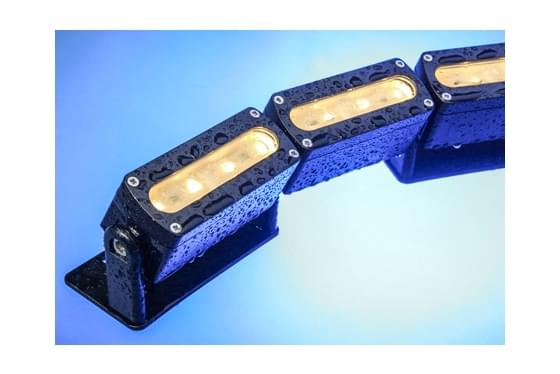 Downloads : technical modifications reserved
The Radiant 3D LED Flex 40 IP66 is one of the early developments of the 3D LED Flex 40 system was an exterior IP66 rated version so that the same system can be used to light both interior and exterior projects. The system has also been used to light pools and hammams where high humidity would cause problems for an IP20 rated system.
1 x RGBW LED array with asymmetric white reflector per module: For use in exterior lighting applications where the building surfaces are non linear with curved profiles. Each module - 4 x Luxeon Z or C LEDs. High efficiency asymmetric white reflector. Up to 4.5 Watts per 100mm module. Up to 48 V DC supply. Flexible in 3 dimensions - Articulated ball-joint system between modules. Remote DMX / DALI controller can be located up to 50 mtrs from the LED system. Custom lengths based on a 100 mm module up to 2 mtrs. Various mounting options and bracket types are available.
See specification for more information or click here