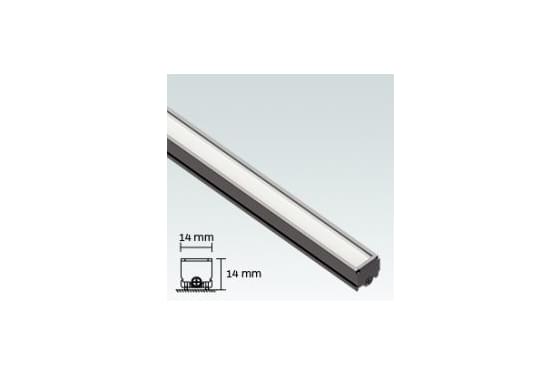 Downloads : technical modifications reserved
Formalighting Microline 14x14 Dotless System & Linear
Body
Surface mounted LED system in extruded aluminium. Deep regressed light source position.
Available in different length configurations starting from 35mm with increment of 30mm.
Section 14x14mm.
Mounting options:
Integrated magnets for easy installation.
L mounting brackets.
U mounting clips.
* Plastic free packaging.

LED Sources
SMD.
CRI: 93, 95 & 97 | R9: >90 | CCT: 1800K, 2200K, 2400K, 2700K, 3000K, 3500K, 4000K.
3-Step MacAdam.
Other CRI and CCT options available on request.

Optic
Extra Wide Beam Angle.
Opal Diffuser (OD), Lenticular Transparent Diffuser (TD), Opal Rigid Diffuser (RD).

Driver
Driver not included to be ordered separately.
Work with 24V Constant Voltage Driver positioned remotely.

Accessories
Mounting accessories included.
Power extension cable Art. 2D58 to be ordered separately.

Applications
Miniature linear light with a disappearing look delivers an homogenous and diffuse light effect, making it the ideal product for showcase and under cabinet illumination.
Application areas: Retail, cabinet displays, showcases, jewelry displays, residential, restaurants, museums.

For more information click here