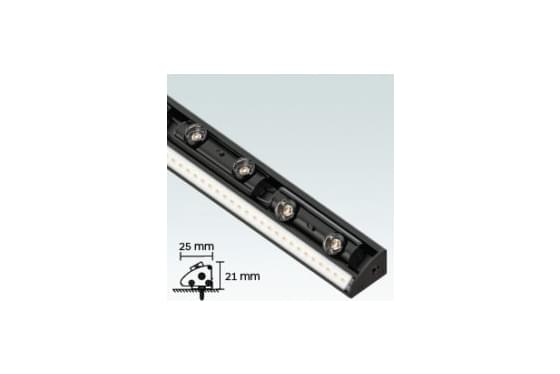 Downloads : technical modifications reserved
Formalighting Punchline System & Linear
Body
An innovative, multi-functional linear lighting solution. This small and discreet luminaire for under-shelf applications in museums, retail and/or hospitality, combines high performance, miniature Adjustable LED spots together with uniform diffused ambient lighting.
The LED spots and diffused light stripe can be controlled separately, enabling the user to select and switch between a spot light effect or a diffused lighting effect or a combination of both. (Patent Pending).
Each module of LED spot can be switch on or off using the on board switch.
Each 2 LED spots module can be adjusted individually for maximizing visual display of the showcased products.
Different CCT options are available. Specifier can select a different CCT for LED spots and for diffused stripe light. Length is customizable.
Surface mounted LED system in extruded aluminium.
Available in different length configurations starting from 70mm with increment of 60mm. Section 970mm.
Mounting options:
Integrated magnets for easy installation.
L brackets.
U mounting clips.
* Plastic free packaging.

LED Sources
Combination of 2 types of LEDs
Spot Light, High Power LED. CRI: 97 | R9: >90. 3-Step MacAdam.
Stripe Light, SMD LED. CRI: 97 | R9: >90. 3-Step MacAdam.
CCT: 2700K, 3000K, 3500K, 4000K. Other CRI and CCT options available on request.
A Combination of 2 CCTs is available.

Optic
Spot Light - Lens.
Beam angle: 21° / 29° / elliptical (22° x 47°).
Stripe Light - Opal diffuser.
Extra wide beam angle.

Driver
Remote driver - Not included.
2F66DC – 2ch Casambi controlled driver 90-305VAC input.
2F66DA – 2ch DALI dimmable driver 90-305VAC input.
2F66D1 – 2ch 0-10V dimmable driver 90-305VAC input.

Accessories
Mounting accessories included.
Extension cable Art. 2E46 to be ordered separately.

Applications
Miniature linear light. Delivers two types of light effects - a homogenous, diffused light effect together with adjustable spot light.
An ideal solution for display showcase, undershelf and under cabinet illumination.
Application areas: Retail, cabinet displays, showcases, jewelry displays, residential, restaurants, museums.

For more information click here