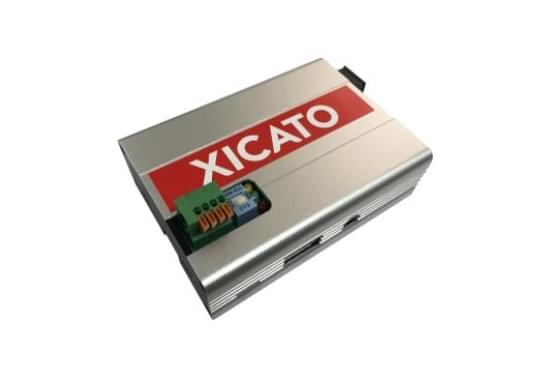 Xicato XCT
XCT is a small, dedicated computer that allows luminaire manufacturers to program and brand lighting nodes in a variety of ways.
Electronically identify XIM-based or XID-driven fixtures. Add company name, luminaire model number, and serial number to the data that is reported by each node through the Bluetooth Low Energy (BLE) or compatible DALI network. XCT branding provides important information to end users that want to purchase additional units or accessories such as optics or track adapters.
Set the maximum lumen output of a lighting module to between 50-100% of its peak intensity, in order to perfectly match it to the thermal capacity of its heat sink, or to meet a thermal challenge in a specific installation and prevent the unit from going into thermal protection mode.
Use a single XIM or XID model in luminaires with different outputs to reduce manufacturer component SKUs and inventory levels and end-user spares. For example, a XIM capable of 2000 lumens can be sold in luminaires with a maximum output of 1000 lumens, 1500 lumens, and 2000 lumens. XCT will automatically adjust the dimming curve; the luminaire will dim smoothly to 0.1%, and coordinate perfectly with other modules.
Preconfigure settings for the convenience of installers, commissioners, and end users by setting power-on behavior, maximum and minimum flux levels, dimming curve, and wired control.
XCT's production mode facilitates rapid programming of many identical modules, automatically or manually incrementing the serial number for each unit. XCT validates that the configuration matches the unit being programmed, and verifies successful installation of the configuration settings. Configuring units takes less than 30 seconds.