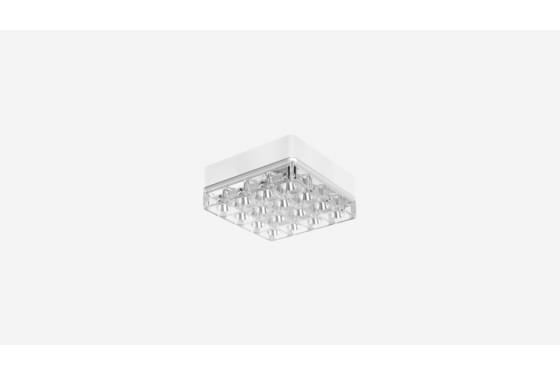 Downloads : technical modifications reserved
Reggiani Cells surface - Wall and ceiling OUTDOOR
Cells Surface is a range of surface-mounted luminaires for IP66 and IK10 ceiling or wall installation. The luminaire modules can be joined together using the special connector to create more complex lighting configurations. Cells comes in a wide range of finishes and is perfect for lighting urban areas, outdoor pathways, public and private facilities, parking lots and multi-storey car parks.
The connector comes in the same standard finishes as the luminaire body and can be used to join a number of Cells luminaires together, thereby creating modular, flexible and aesthetically unique lighting systems.
The anti-glare accessories and adjustable brackets make the luminaire even more flexible and fitting for a myriad of applications.

* Standard light distributions available: narrow, medium, wide, asymmetric, rectangular and double asymmetric, as well as bespoke distribution options.
* Emergency version available as standard.
* Opal and tranparent diffuser.
* Base available in raw aluminium, or finished in white, grey or graphite.
* Fixture base accommodates standard electrical conduit, and may act as a junction box.
* Different coloured plastic plates
* LED color temperature: 3000K, 4000K
* CRI>80
* Control systems: On/Off, Dali, Dim1-10V, Phase-cut, Bluetooth
* IP66 / IK10
* Available on 13W version required for ambient temperatures up to 50 °

See specification for more information or click here