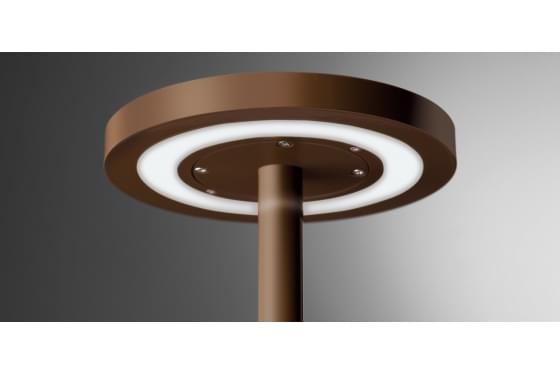 Downloads : technical modifications reserved
LAM32 Spike/ Spike Mega
Luminaire designed for ceiling, wall or ground, floor installation,
suitable for power LED sources. It is composed of aluminum body
submitted to anodizing treatment up to 18 microns, polyester
powder coated to ensure durability over time and maximum
resistance against atmospheric agents. The internal screen diffuser
is in satin PMMA. The protection degree IP66 is ensured by a
special waterproof cable gland. It is completed by tubular stainless
steel stem and pole of support, with polyester powder coated
fixing plate welded along all the circumference of the luminaire.
Luminaire's installation is allowed thanks to screws for direct fixing
to the floor or appropriate flush fixing counter-plate in steel
sheet with anchor bolts for concrete planting. SPIKE is available
in 24VDC and 230VAC power supply. SPIKE MEGA is available
only in 230VAC power supply. Them are equipped with a 1m long
neoprene cable outgoing from the stem, for connection to the
supply line through appropriate waterproof connection systems to
be ordered separately.


See specification for more information.
For more information about Spike, click here
For more information about Spike Mega, click here