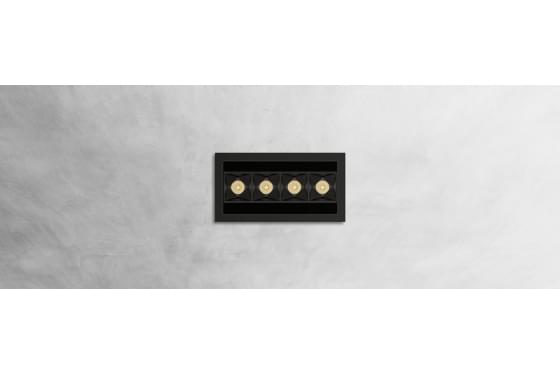 Downloads : technical modifications reserved
Formalighting Polaris Adjustable
Square shape mounting trim in cast aluminium with springs for trim installation on ceiling thickness 2-25mm or brackets for trimless installation on ceiling thickness 2-25mm. Luminaire body in cast aluminium with integrated diamond faceted screen made from thermoplastic and metalized polycarbonate reflector. Available in different configurations up to 16 light heads. Light heads collectively tiltable in two directions from 0° to 35°.
Citizen CLU Series, Osram high power LED CRI: 90 | CCT: 3000K, 4000K. Other CRI and CCT options, TuneableWhite version (30) available on request.
Supplied with No-dimable remote driver. Dimming Options: 0-10V Dim, DALI, Phase, CASAMBI.
An innovative solution for high brilliance and performance. The light source is barely visible, as the miniature light heads create a high contrast and circular light emission. Application areas: residential, hotels, restaurants, retail, corridors.
Available in the following types:
Polaris 30 Adjustable Trim-4, Polaris 30 Adjustable Trim-8, Polaris 30 Adjustable Trim-12, Polaris 30 Adjustable Trim-16 
Polaris 30 Adjustable Trimless-4, Polaris 30 Adjustable Trimless-8, Polaris 30 Adjustable Trimless-12, Polaris 30 Adjustable Trimless-16