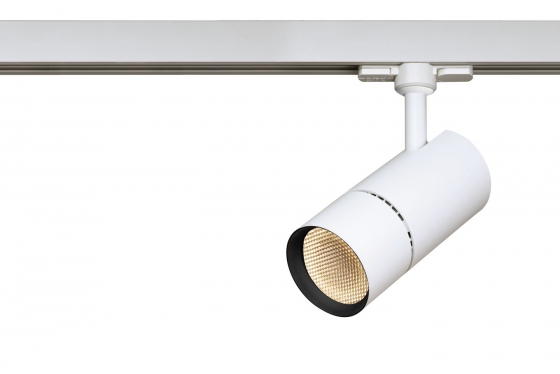 Downloads : technical modifications reserved
Stratas XIC Spotlight: Small construction-kit spotlight system Ø 80mm. Optional with Bluetooth (BLE).
Optional integreated electronic (XIM-Modul) with lifetime hours temperature control, heatsink control, wireless luminaire communication via bluetooth with control system, presence detector or brightness sensor.
Lamp
XICATO / XTM Artist/Vibrant (CRI = 98)
XICATO / XIM Artist modul with integrated control (CRI = 98)
Colour temperature: 3000 K (2700 K, 3500 K, 4000 K on request)1×2 step MacAdam initial.
Beam angle
4 reflectors for 19mm LES-module:17° narrow spot (with anti-glare louvre) / 20 ̊ spot / 40 ̊ medium /50° flood
Wall washer for 19m LES-module (40° reflector + wallwasher front with secondary reflector, angled) for 9mm LES-module:11° narrow spot (with anti-glare louvre)
Control
XTM – Integrated electronic LED driver and potentiometer for dimming-control. (alternative DALI)
XIM with Bluetooth low Energie (BLE) (XIM-Modul – DALI and 0-10V), (0,1% – 100% dimming)
Mounting
Track adapter 230V (EUTRAC / STUCCHI 3-phase multiadapter with data option)
Surface mount (Ø=80, h=35) or recessed
Orientation
0 ̊- 90 ̊ vertical tilt and 360 ̊ rotation.

See specification for more information