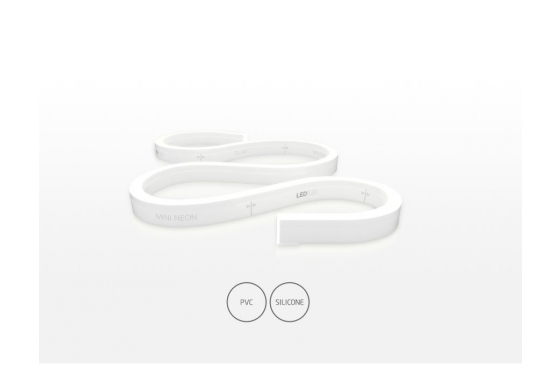 Downloads : technical modifications reserved
LED Flex Mini Neon
The Mini Neon is the narrowest in the Neon range with a width of only 9.5mm and a depth of 18.5mm. Mini Neon's immense flexibility, continuous smooth lighting and is suited to exterior applications in need of a discreet lighting source. The Mini Neon's PVC coating will ensure a fully IP68 waterproofing and is therfore ideal for exterior and interior application.
Mini Neon Flex is ideal for decorative detail lighting.
Mini Neon produces a continuous smooth lighting effect and is available with a range of accessories to facilitate simple connection and mounting.
All LED Flex luminaires are fully dimmable, have a 3 step MacAdam binning to provide an excellent colour consistency and have a 5-year warranty.
Power Consumption 3.5W/M - 4.75W/M | 0.16A/M - 0.19A/
Cutting Intervals: 83.34mm
Voltage: 24V DC
Beam Angle: 160°
Bend Radius: min 45mm
CRI 82
Up to 150 Lumen/m
See specification for more information