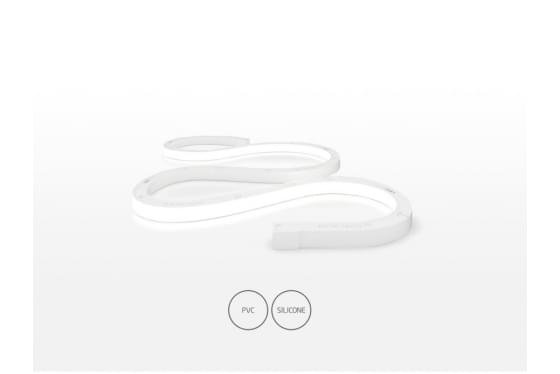 Downloads : technical modifications reserved
LED Flex Micro Neon Top View
Micro Neon Flex is only 10mm by 10mm and can be installed in the harshest of environments due to its UV resistent coating. Micro Neon is available in two bending directions: Sideview and Topview, and is also available in a range of colour temperatures. Despite its size, Micro Neon does not lack in light output and is an incredibly versatile product.
All LED Flex luminaires offer high durability and flexibility for all projects requiring a linear LED solution. They contain an encapsulated LED strip with high-quality Epistar branded chips inside a flexible 3OZ case. The protective casing prevents UV damage, is water- and step-proof, as well as flame and solvent-resistant.

All LED Flex luminaires are fully dimmable, have a 3 step MacAdam binning to provide an excellent colour consistency and have a 5-year warranty.
The LED Flex Micro Neon Side View can also be mounted in an aluminium profile, so that it remains stable and straight.
Power Consumption: 4 W/M - 4.5W/M | 0.17A/M - 0.18A/M
Mounting: Aluminium profile / self locking aluminium profile
Connection: Hardwire tails or male/female connectors
Control: 0-10V/1-10V/DMX/DALI
Colours: Warm White
Click here to view LED Flex Micro Neon Side View
See specification for more information