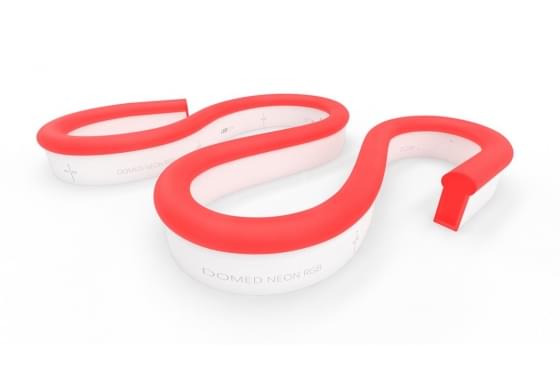 Downloads : technical modifications reserved
LED Flex Domed Neon RGB
This high output Neon Flex features a domed top which produces a wider beam angle. Its durability and weather resistance make it suitable for external conditions. The Domed Neon resembles a conventional glass neon and can be used to replace and upgrade existing neon installations. Domed Neon is a superior substitute with the added benefits of more durability and flexibility.
Available in: 3000K, 5700K, RGB (Red-Green-Blue), RGBW 2700K (Red-Green-Blue-White) and RGBW 4000K (Red-Green-Blue-White)
The main advantages of using LED Flex over similar products is that it offers high and uniform brightness and a long service life, while also being energy-saving.
The Led Flex product is suitable for wet locations, saltwater resistant and can withstand extreme temperatures. The LED Flex product can also be mounted in an aluminium profile, so that it remains stable and straight.
All LED Flex luminaires have a 3 step MacAdam binning to provide an excellent colour consistency and have a 5-year warranty.
Power Consumption: 12W/M | 0.5A/M
Cutting Intervals: 100mm
Beam Angle: 320º
Bend Radius: min 60mm
Up to 139 Lumen/m

See specification for more information.