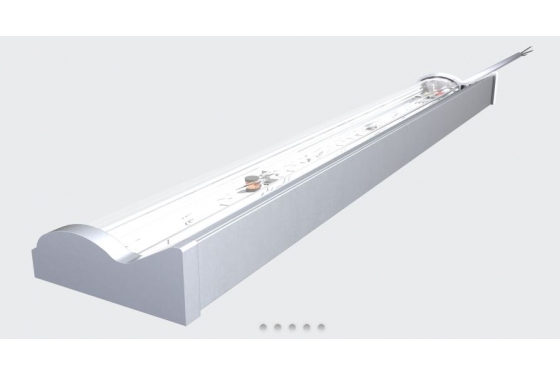 Downloads : technical modifications reserved
GVA Lighting STR8
The STR8 is a patented LED strip luminaire. The unique form of the STR8 body performs the dual function of heat sink and glare control valance. Typical applications include cove, under-cabinet, display case, retail and task lighting.

The STR8 is available in 6 color temperatures of White LEDs as well as Amber, Red, Green and Blue. GVA's design expertise has lead to the development of the patented body of the STR8 . An array of heat fins run the length of the luminaire body and efficiently move heat away from the LEDs and other electronic components. This increases the functional lifetime of the luminaire. The particular shape and position of the fins allows them to also function as a glare control valance. No projected light is lost, yet in most installations, the high brightness LED light sources remain hidden from view behind the fins.

The STR8 's low profile, only 55mm wide and 21mm high, makes it an ideal luminaire for installations where space is limited. It is easily mounted onto almost any surface with number 4 screws through its mounting flange.
Features
1300lm/m or 400lm/ft delivered
Two power options: 3W or 7W per 300mm/1ft
6 LEDs per 300mm/1ft for even illumination
120° lambertian distribution
Built-in glare control valence
On/Off, no dimming or direct DMX control input
DALI or 0~10V dimming through GVA's power-data equipment
Indoor applications: IP40 rated
Very small fixture size: 21mm/0.8″ high, 54mm/2.1″ wide
Eight standard nominal lengths: 300, 600, 900, 1200, 1500, 1800, 2100 and 2400mm or 1-8ft
Options
Right hand or left hand feed
Specify input cable length
See specifications for more information or click here