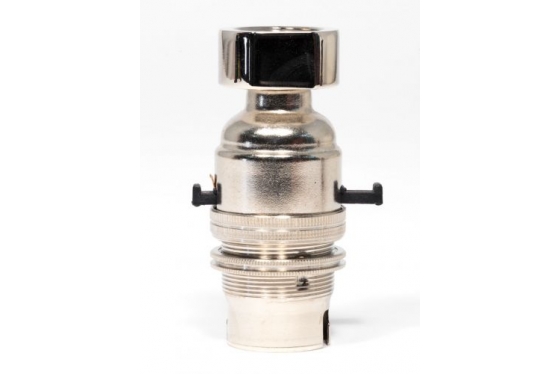 Downloads : technical modifications reserved
FactoryLux Threaded B22 Lamp Holders
The lamp holder is ideal for table, desk or standard lights - the switch means it can be controlled at the light source and the threaded nut allows it to be mounted on standard M20 fittings. The threaded nut is, for example, compatible with all the male Factorylux galvanised steel conduit fittings. The lamp holder has an advanced safety feature which prevents it being turned on unless a bulb is in the socket.
Features:takes a standard bayonet (B22 or BC) light bulb and compatible with Factorylux filament bulbs and Eco-Filament pear bulb

Comes with a single shade ring with extras available here.
The same switched fitting is available with a hook or with a cord grip suitable for pendant lighting. And there are un-switched B22 lamp holders with threaded nuts, with cord grips or with hooks.
Finish: vintage brass, antique bronze or retro silver
Diameter: 26 mm - barrel
Maximum cable diameter: 7 mm
Compatible with: three core lighting cable
Not Compatible with: two core lighting cable