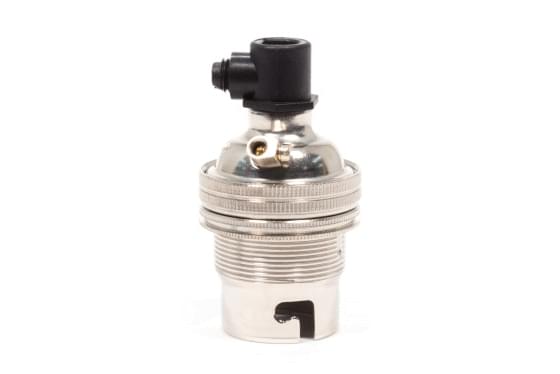 Downloads : technical modifications reserved
FactoryLux Cord Grip B22 Lamp Holders
These brass lamp holders are precision machined in the UK and a compelling alternative to white plastic fittings. To fit a shade, the lamp holder barrel measures 26mm and the external diameter of the shade ring is 32mm.
Features:
The lamp holder is hung using the supply cable which is safely secured by a cord grip with side locking grub screw
Choose from vintage brass, antique bronze, silver nickel plate and gold plate finishes
Comes with a single shade ring
Requires an earth connection - must be wired with three core lighting cable

A hooked version of the same lamp holder is available for suspending using lighting chain or there's a threaded version for attaching to 20mm conduit or similar. There are also standard screw cord grip (E27 or ES) and small bayonet cord grip (B15 or SBC) versions in the same finishes.
See specifications for more information