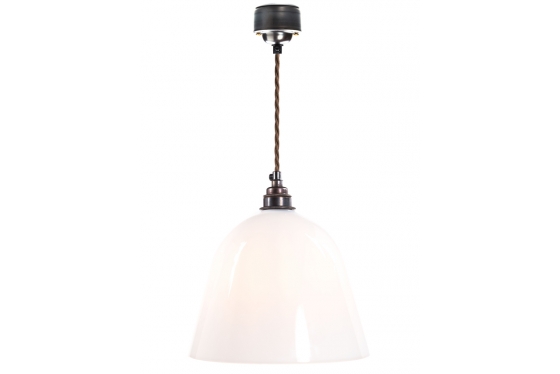 Downloads : technical modifications reserved
Factorylux Bletchley
These glass lamp shades are exact reproductions of the original shades that were installed at Bletchley Park, the World War Two home of British codebreaking and a birthplace of modern information technology. They were recreated for the restoration of Bletchley Park and are now fitted in the huts where the Enigma cyphers were cracked.
opal diffuser style shade made entirely in the UK for exceptional quality and finish
shade is approx 180mm (seven inches) high and 230mm (nine inches) wide at the base
the hole in the neck of the shade is 40mm and compatible with various lamp holders, including the Factorylux E27 lamp holders with cord grip to suspend using the supply cable, hooked to hang using lighting chain and threaded for fixed mounting to a conduit installation or similar
The shade is available as a glass pendant light with fittings identical to those used at Bletchley Park.
Click here to view the Factorylux Cord Grip Lighting Pattress
Click here to view the Factorylux Twisted Fabric Lighting Cable
See specifications for more information